Since December of 2019, when the Chinese government reported the first cases of a novel coronavirus in the Hubei Province of China, COVID-19 has escalated into a global pandemic. While most people who contract this virus do not experience severe symptoms, and more than half of the infected population has already recovered, the virus still represents a serious public health concern. Moreover, as the world determines how best to prevent, contain, and manage the pandemic, there are separate political and socioeconomic consequences that must be considered.

Given our active interest in the intersections of health and socioeconomics, we'd like to examine the financial impact of the coronavirus on patients in the United States. We'll walk through the latest updates, including those from President Trump's March 12th address to the nation, and discuss the hurdles that US citizens may encounter as they work to prevent, test for, and treat COVID-19.

Ultimately, we argue that this unfortunate pandemic illuminates the importance of transparent pre-care patient engagement. When patients are aware of their treatment options they can avoid surprise medical billing for lifesaving care.
Covering Costs Associated with the Coronavirus
President Trump proposed various solutions to help Americans pay for emergency coronavirus testing and treatment. In his own words: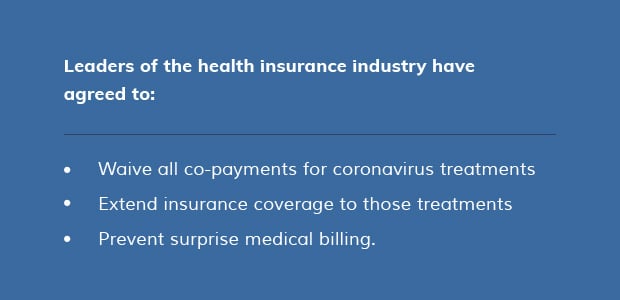 This update came on the heels of March 10 guidance from Vice President Mike Pence, who Trump appointed to oversee the country's pandemic preparedness efforts. Pence, accompanied by leadership from major American insurance companies, claimed in a briefing that those insurance companies—as well as Medicare and Medicaid—would cover all costs associated with the coronavirus without copays.

In addition, the Trump administration promised financial relief for American workers who are sick, quarantined, caring for loved ones, or otherwise prevented from working during the pandemic. The details on these new policies are still fuzzy, and some appropriations bills have stalled in Congress over partisan issues.

These measures represent smart steps towards mitigating the financial consequences of COVID-19. However, there is still significant confusion surrounding the implementation of these policies, and many outstanding questions about coverage—particularly amongst the uninsured.

Outstanding COVID-19 Coverage and Billing Questions for Consideration
Putting ourselves in the shoes of the patients we work with, we have identified the following basic questions about coverage for coronavirus testing and treatment.


What options are available for patients who do not have insurance?
If a patient tests positive, what out-of-pocket costs will be covered?
If a patient tests negative, what out-of-pocket costs will be covered?
Is coverage available for both testing and treatment?
What if a covered patient has not met their deductible?
What impact, if any, would a positive test have on a patient's healthcare premiums?

For providers, it is critical that medical practices and hospitals answer these questions for patients in a systematic way. As the healthcare system adjusts to the growing need for testing and treatment, still more questions will arise. Altogether, despite sweeping promises from the government and insurance companies, there is still mass confusion about what individual patient experiences and costs will look like.

Confusion and Surprise Medical Bills
Confusion, as we know too well, often results in surprise medical billing. Particularly in emergency scenarios like the COVID-19 pandemic, exposed or affected patients need to move quickly to secure care. They can't wait for insurance companies to get back to them about coverage—nor should they. The health of our entire country depends on the accessibility of affordable and effective care.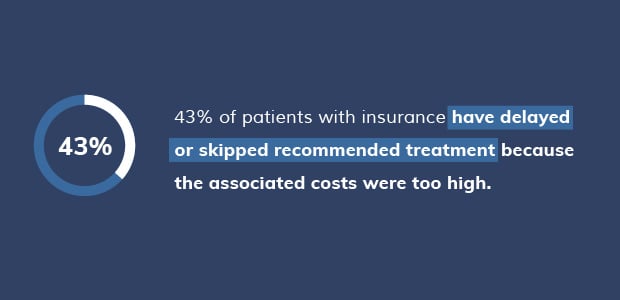 It's also worth noting that some patients do avoid necessary medical care for financial reasons. The Kaiser Family Foundation reports that 43% of patients with insurance have delayed or skipped recommended treatment because the associated costs were too high. Even if that rate falls in the time of a pandemic, the risk is still serious. Avoiding treatment for a common cold is one thing, but avoiding treatment for a potentially life-threatening virus like COVID-19 is another. However, given the uncertainties that surround billing for coronavirus testing and treatment, and the high likelihood of surprise after-the-fact billing, it's no wonder some patients are hesitant to get the care they need. They truly might not be able to afford it.

Unfortunately, some patients are already bearing the burden of surprise COVID-19 billing. One Miami man is facing thousands in medical bills for a negative coronavirus test, and another, in Pennsylvania, is unsure about how he'll pay for his and his daughter's quarantine costs. As the virus continues to spread, so too will these cases of surprise after-the-fact billing.


What Can Be Done
While there is much that feels uncontrollable about this pandemic, there are concrete steps that medical practices and hospitals should be taking to mitigate the risks of surprise billing.
Send mass communications about cost and care strategies, and help patients understand what needs to be done if they experience symptoms.
No one is better equipped than healthcare providers to offer clear, trustworthy information to patients. Take advantage of this opportunity to provide up-front information about COVID-19 testing and treatment costs, ensuring that patients are educated before they get sick. You can disseminate this information as an email newsletter, via in-office posters and signage, through existing patient communication platforms, or through any other method that works for your practice.


Set up a hotline to handle COVID-19 billing and treatment questions
You can help to alleviate patient uncertainty by setting up a designated hotline in your office or hospital that's equipped to handle questions about coronavirus testing, treatment, and most importantly, costs. Ensure that hotline operators are trained in insurance coverage, payment collection procedures, and other relevant financial policies so that they can respond to patient queries in those areas.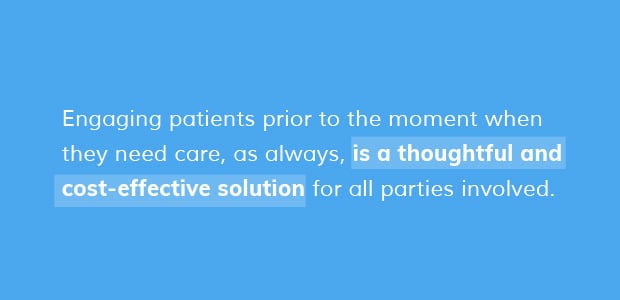 Effective pre-care engagement is essential not only to prevent surprise financial consequences for patients, but to contain the spread of the virus. Engaging patients prior to the moment when they need care, as always, is a thoughtful and cost-effective solution for all parties involved. It empowers patients to make informed decisions about their care and the costs thereof, increases the likelihood of payment, and therefore ensures that providers do not struggle to meet collections requirements. Now, more than ever, it is vitally important for providers to implement these money- and life-saving strategies.


---

Learn how FinPay helps providers cultivate a highly-effective pre-care patient financial management strategy, and stop surprise billing your patients.